On 19th October 2017 I was proud to receive the ITT Odyssey Award. Below is the speech I gave on the night:
"My Lords, Members of ITT, Ladies and Gentlemen,
To receive this award tonight is such a privilege for a lad from Lancashire.
Just over seventy years ago I was adopted by John and Ada Speakman. They lived in Tyldesley a small cotton and coal town in South Lancashire.
My mother, Ada worked in a grocers and my dad worked down the pit. He was no ordinary miner as he was in charge of blasting tunnels in search of new seams of coal thousands of feet underground.
Though we lived in a National Coal Board house and he had what was considered a good and secure job his main wish for me was never to to be a miner, never to spend the rest of my life buried all day underground.
My parents aspirations were never theirs alone but their aspirations lay with me to be somebody, to achieve something more than they would ever be able to, they wanted to be proud of their son but whatever that was, I was never to go down the pit and I didn't.
So I became a Quantity Surveyor and after leaving the building industry and starting my new business  life with my wife, Maureen as owners of an off-licence I opened my first travel agency 39 years ago
What a great industry I had entered, I'd come from a job were I had to measure how many bricks there were in a school manhole as foul sewerage lapped around my ankles as the kids flushed the toilets at playtime.
From that, I was transported into what seemed the travel jet-set, a week skiing in Switzerland, three days in New York, five days in Thailand, all free of charge, treated like kings or queens, openings, brochure launches, ship launches, breakfasts, dinners, lunches. Just too good to be true.
We are all privileged to be part of such a great industry. I remember in the early days of  being a travel agent, a long time owner described his good fortune working in travel, as having a £30,000 salary and a £100,000 lifestyle. Travel has given us all so many great memories and emotions.
In 1986 the Chernobyl radioactive cloud threatened our livelihood in travel and we sold our four very successful travel agencies. But our original travel business was only a precursor to our real success in the industry.
After a fantastic success followed by abysmal failure in the restaurant business we returned with no money to this industry we loved and started Travel Counsellors.
At first we were just pleased to survive, sleepless night followed sleepless night with not enough money to pay the bills. A loving wife who was there by my side picking up the pieces  of  my one previous business venture too far. But I loved the challenge and winning. I know it's sounds cliched but I loved exceeding customers expectations. Even more I loved empowering the individuals, who had a passion to serve their customers but lacked the business experience I could provide.
The overriding principle I have lived and worked by is the Golden Rule,
"to treat people the way I would want to be treated"
My business ethos was governed by this Golden Rule, at Travel Counsellors we treated all with respect, many were leaving a regular salary to back themselves, I am proud to have been a part of their empowerment. Travel agents are the gems of the travel industry.
The success of Travel Counsellors was never due to, working from home, being self-employed, having no rent, commission-only. 
All those processes can be copied, what made the business and to this day still applies, is it's credibility, its reliability, it's intimacy and it's passion to do the right thing by the customer. Call it customer service, customer experience or whatever it's name. Good process should be a given but the differentiation is passion and emotion.
We all have the opportunity of being respected by our customers, we should always keep that in mind when process and profit takes precedence over respect for the customer.
In the future companies will be measured by how we treat people rather than the products we provide.
What we offer should be Trusting Customer service.
Surely an industry rightly so incensed by bogus customer  illness claims undermines its moral position by being misleading and tardy in its settlement of claims for flight delay compensation.
Also let's make 100% customer financial protection mean just that, no equivocation, no vagueness.
Not placing customer money in jeopardy is fundamental in building trust.
I fear the cuts to services and price for flights has now reached an unsustainable level. Let's have the self-belief to charge the right price for the services we offer.
So after a fulfilling and colourful business life mostly in travel, tonight I am sincerely proud to receive the Institutes  Odyssey Award.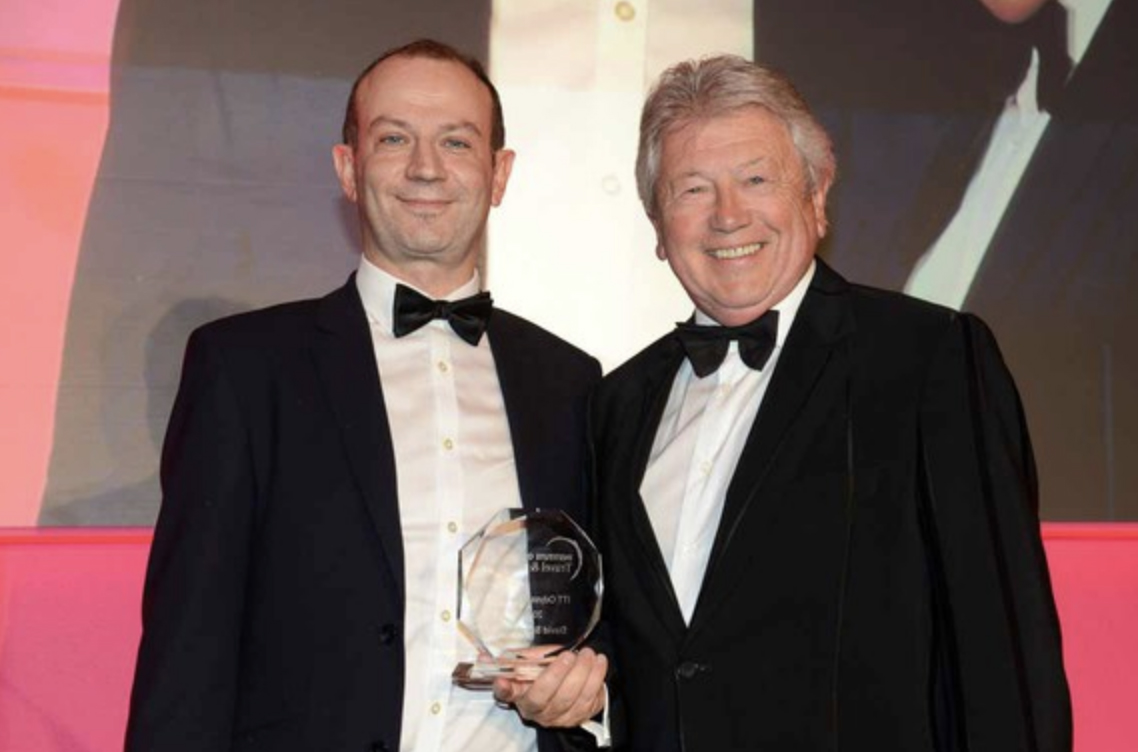 I want to take this opportunity of thanking Maureen my wife of 45 years who throughout my life has given me permission to fail, which I have done, but has worked alongside me and empowered me to aspire to success.
I thank my family who have also worked alongside me in the business. They are here with me tonight, without them I would not be the business man or the person I am today.
I thank my friends and colleagues past and present for their patience and their loyalty.
Last but not least I thank the institute of Travel and Tourism and the industry in general for this accolade. I have loved the challenges, the camaraderie, the changes and the vision of the industry.
I'm sure everyone of us appreciates the  privilege we have to work in this great industry and luckily none of us will ever have to go down the pit.
I sincerely thank you all."