Excerpt from my after dinner speech at Scottish Passenger Agents Association Annual Dinner on 24 April (Rescheduled from 1st March)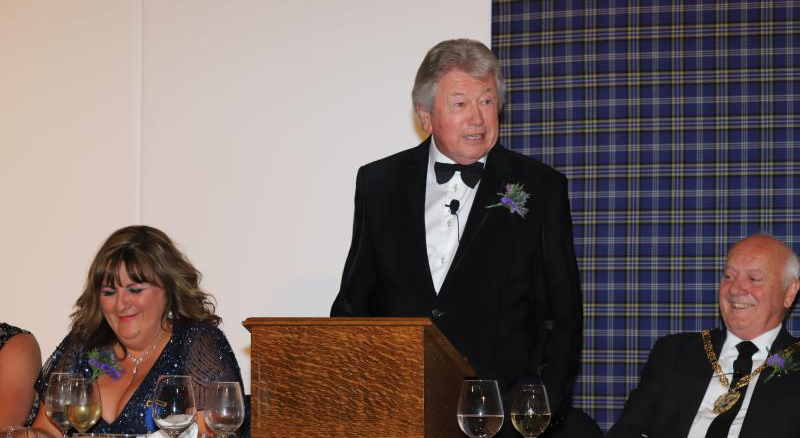 "……….We have been on a fantastic journey with great memories, two visits to receive the Queens Award and meet the Queen at Buckingham Palace.
Our Canada Conference in Toronto at the top of CN Tower, our Australia Conference on the patio of Sydney Opera House and, our South Africa Conference in Mauritius in a South African Safari lodge and Speaking to 4,000 home based agents in Las Vegas.
The terrible times, the Twin Towers, nine-eleven when we thought the world was coming to an end, the financial crisis when we heard HBOS might go bust taking our financial trust money of £10m with them. The Tsunami when three of our customers drowned. The ash cloud when Gordon Brown and the Labour government repatriated Brits to Calais and not to the UK.
The success of Travel Counsellors was never due to working from home, being self-employed, having no rent or commission-only, what made the business and to this day still applies, is its credibility, its reliability, it's intimacy and it's passion to do the right thing by the customer.
The community and feel good factor of belonging is important but being financially fulfilled is also important, last year the top TC earned £400k, the top 10 earned on average £240k, the top 50 £140k and the top 100 £105k.
In 2014 we decided to sell a majority stake to Equistone Private Equity which allowed the Directors of the company to share in its success. We still retain a substantial stake and we left the UK business in the capable hands of Kirsten Hughes.
So what about the industry?
We all are rightly annoyed at fake illness claims by customers but how do customers view some of the industry's actions?
Is it right to overbook rooms?
Is it right to overbook flights?
Is it right to cancel flights and try to avoid paying legal compensation.
Is it right to purposely separate families and charge them to sit together?
Pity poor Les Price, at 37 stone, he was asked to buy two seats on the flight from Ireland to the UK.When he boarded he found the seats were three rows apart!
Under UK law mandatory extras must be included in the price, so how can there be mandatory gratuities on cruises? To sidestep the law customers that refuse to tip have to agree to attend a course of "gratuity enlightenment" whilst on board. Who thinks of this nonsense?
Years ago ABTA's Travel Agents Council would have stopped such nonsense.
Airports create queues by understaffing, then charge for a shorter queue. We are told Terrorist attacks will not change our lives, yet airports allow them to win daily, by creating unnecessary inconvenience to the travelling public.
Border control are no better, we arrived at Heathrow on Sunday, 30 gleaming automatic passport gates but queues as only 10 could be used as there weren't enough staff to supervise. What a miserable experience airports offer. Obviously I exclude Glasgow airport.
I hope in future the CAA will better regulate these monopolies.
Last October the industry dodged a bullet when Monarch went bust and the Government repatriated all those stranded abroad irrespective of whether they were covered by Atol or not.
Mark Tanzer the Abta boss, said "What is the point of Atol protection if everyone gets brought home anyway? Customers will expect the same free repatriation in the event of future airline failures."
I agree for a different reason, what is the point?
Customers having paid in advance, expect not to be stranded. It's always amazed me that some in travel believe customers should pay to protect the loss of their own money, Customers don't. Could you imagine the misery of being stranded abroad maybe with your family without the resources to return home and what about the reputation of the industry, what about the compassion, people have paid in good faith.
Mark's and ABTAs intention is to create a level playing field for operators, as it suits its big tour operator members to force every agent to become ATOL bonded. Their aim is to make it as difficult and as expensive as possible to compete with them.
The Atol system is flawed, it takes little account of an industry that in the last 30 years has changed from packages to dynamic component parts and it does not protect all customers. All this complexity about packages, flight-plus, 24 hour rule, click through, linked arrangements, misses the biggest single risk – Airlines Going Bust. In recent times XL Airways, Fly Globespan, and Monarch, have potentially stranded abroad over 200,000 customers and over 1 million advanced bookings have been cancelled.
Air Berlin in the last ten years has not made a penny and when it went bust a few months ago it had debts in excess of £1.5 Billion.
Airlines that turn over and risk billions of pounds of customer money are not bonded yet a small "momand pop" agency has to be. That's what happens when you can lobby a Customs Union.
So what is the future of travel and travel agents?
In the words of Mark Twain "The news of my death has been greatly exaggerated"
Forty years ago customers had little choice than to book travel through an agent. Since then with all the challenges of holiday shops, OTAs, direct-sell, self-packaging and discounting, good travel agents have still survived. The biggest casualties have been the operator holiday shops.
In future I see more agent groups giving full financial protection to customers.
Rolf Jensen a Director of the Copenhagen institute of Future Studies and author of the "Dream Society" believes that in the future, Emotion – will affect everything from our purchasing decisions to how we work with others. Companies will be measured by how they relate rather than the products they provide.
Maya Angelou, a civil rights activist once said:
"I've learned that people will forget what you said, people will forget what you did, but people willnever forget how you made them feel."
Though customers can now book product themselves, can they trust who they buy from? As the world gets increasingly complex people will look for someone they can trust, someone that makes them feel safe, cared for and valued. Travel agents are the gems of the industry and have an opportunity to be the travel voice of the people. They must be willing to advise, deter, criticise suppliers without fear or favour.
Commissions should never prejudice the impartiality of an agent.
They must be organisers as well as package agents. Every OTA is looking to make their offerings more personal and credible, good agents are already there.
This is a couple of paragraphs from my intended speech seven weeks ago:-
As Google, Amazon, Facebook and Apple become more dominant, trust in them will diminish. People will become more wary and mistrusting of them as the technology becomes more persuasive and pervasive.
Already the Trump presidency is looking at the power of Amazon and the EU have already three anti-trust claims against Google.
Like AT&T in the eighties it's likely that these massive companies will be split up by Governments who fear their power and their intrusion into all our lives.
Well time caught up and overtook my speech. Today Facebook admit to allowing others to trawl data of 87 million of their subscribers. Further revelations will prove this is the tip of the iceberg. Trust inFacebook is down by 77% and the EU announced they are looking to break up Google.
Someone once said that Trusting your private data to Google is like putting Mr Fox in charge of your chickens.
Even Tripadvisor recognises it is no longer trustworthy and has changed its logo from the "World's most trusted travel advice" to "The Worlds largest review site"
All this increases mistrust in digital platforms. Another reason for customers to be more wary and look for agents that build real trusting relationships.
There is a great future for the travel agent/organiser that gets it and understands they are the champion of the customer and not the promoter of the supplier.
In my travel journey I have been rewarded with so many memories of good times and great people, "even the bad times were good'.
It was never about the money but being the best and winning, I loved it.
My biggest achievement in business is that I have enabled some, albeit in a small way, to be empowered and in control of their own destiny.
Thank you for your time.